About Yatala Pies
Yatala Pies has been a landmark in the Yatala area of Queensland Australia for more than 130 years. From humble beginnings as a small pie shop on the Pacific Highway, the company has relocated to large, modern, landscaped premises nearby (exit 38 Yatala North off the M1) and employs 70 staff. From modest sales of about 200 pies a day a little over a decade ago, the company now sells more than 3,500 pies a day, as well as hundreds of sweet pastries.
It features a drive through for travellers on the Pacific Motorway
Yatala pies bakes several varieties including traditional meat, steak bacon cheese, steak and mushroom, steak and kidney, chicken and vegetable. A gourmet range has been recently introduced and changes on customer sugguestion.  Yatala also bakes vegetarian pies.
The Yatala pie store still uses the traditional ceramic pie ovens.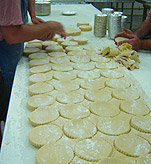 Yatala pies has been praised for the high genuine content of its product. It's not unusual to bite into a Yatala pie and find large chunks of Australian A grade meat, huge succulent mushrooms or tasty pieces of fresh chicken.  Yatala's sweet pastries also contain a large genuine content.
Yatala products can be bought as individual servings (one snack sized pie), or as a family pie (serving up to four people). Snack pies are served hot ready to eat as well as cold for take home pack.  Family pies are sold cold  unless pre-ordered by the customer. Family sized sweet pastries can also be purchased.
Yatala pies does very little in the way of advertising, not using any radio or television and rarely using print media. Curiosity and word of mouth has proven successful however, and Yatala Pies enjoys excellent patronage today.